2013 PARADE OF HOMES Greensboro Builders Association


Members of the Greensboro Builders Association – in conjunction with the Home Builders Association of Winston-Salem and High Point – invite you to join us for our regional Fall Parade of Homes on Saturday & Sunday, October 12-13 & 19-20. Fifty-eight newly constructed homes will be on tour throughout Guilford and Forsyth counties for two consecutive weekends. Homes will be on tour from 1 – 5 pm each day. Admission is FREE.
The annual Parade of Homes provides an opportunity for consumers looking to build or buy a new home, or just interested in seeing the latest in home design trends and amenities, the chance to see a variety of homes and communities, as well as meet and talk with area builders, designers and suppliers. Consumers will see the latest advances in home construction, such as energy efficiency features; along with the newest trends in home amenities including open floor plans, large master suites, gourmet kitchens and outdoor living spaces.
For homes located throughout Guilford County, information can be found on the GBA website at www.GreensboroBuilders.org and in our 2013 Parade of Homes magazine which is available at all Parade homes, as well as area Harris Teeter and Lowe's Home Improvement stores.
Information on all homes are also available on our mobile website and smart phones application, for both iPhone and Android platforms, to access information on Parade entries, including driving directions and an interactive Buyer's Guide of participating members who helped in the construction of these homes. You can also utilize this feature to highlight your favorite homes; as well as map the homes you want to tour for driving directions between homes. Links to download the apps can be found on the GBA website.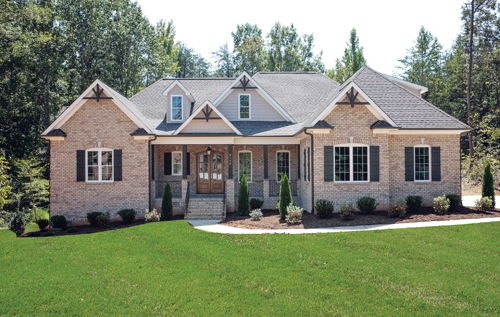 According to the National Association of Home Builders/First American Improving Markets Index (IMI), economic indicators show that the Triad housing market continues to show steady improvement. The IMI was designed to track housing markets throughout the country that have shown improving economic health for a minimum of six consecutive months. It measures three sets of independent monthly data—employment growth from the Bureau of Labor Statistics, house price appreciation from Freddie Mac, and single-family housing permit growth from the U.S. Census Bureau—to get a mark on the top improving Metropolitan Statistical Areas.
These steadily improving economic indicators should give potential home buyers more confidence, but they are far from the only reason to buy a home. As history has shown, home ownership remains one of the best investments one can make. With interest rates at historic lows, home buyers are positioned to get a GREAT VALUE when they purchase a new home.
We encourage consumers to take advantage of the casual and relaxed atmosphere the annual Parade of Homes provides to tour newly constructed homes.
The 2013 Fall Parade of Homes is presented by the Greensboro Builders Association, in conjunction with our Parade sponsors – Amanzi Marble & Granite, Bill Black Chevrolet and Stock Building Supply. Utilize the GBA website to find additional information on each Parade home at GreensboroBuilders.org.
Previous
Next
Connect with home resource professionals in our area today.