The Village at Brookberry, Traditional Low Country Homes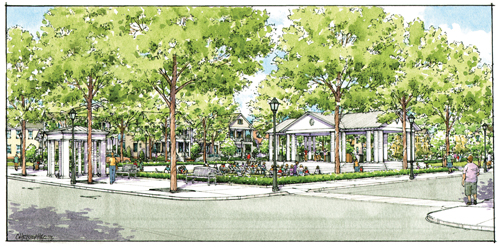 The developers of Brookberry Farm, one of Winston-Salem's most successful communities, are excited to announce the fourth phase of the development. The new phase will consist of 133 residential lots. The majority of the lots will be similar in size to those that have already been developed at Brookberry Farm. A new component will be "The Village" consisting of 55 residential lots, around three large parks and a quaint commercial area designed for a combination of small shops and offices. The Village will feature homes with similar architecture and charm to those found in southern cities such as Charleston and Savannah. All of Phase IV will be planned to promote outdoor living by creating a pedestrian friendly setting and uniting it with the natural beauty of the property.
According to developer, Jim McChesney, "We're excited about Phase IV and the new village concept. We've always been a fan of this type of architecture, this type of lifestyle and quality of living, and feel it will be a great addition to Brookberry." Among the new amenities that will be featured in Phase IV are landscaped gardens, sporting greens, outdoor fireplaces, bocce, and a pavilion and outdoor amphitheater. The existing clubhouse, barn, pool complex, fitness center, and tennis courts are available to all residents of Brookberry Farm.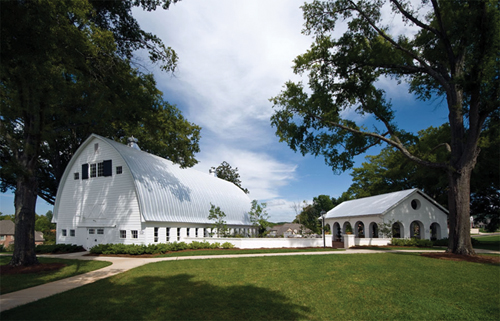 For the past year, the developers have been working with Allison Ramsey Architects, Inc. of Beaufort, SC to create the vision for The Village. "When we met Cooter Ramsey and his team for the first time we knew immediately that we shared similar ideas and principles relating to architecture and land planning. We knew we would work well together and we've really enjoyed the process," said Matt McChesney. Five builders from Brookberry's builder team will be working on The Village – Benchmark Custom Homes, Isenhour Homes, Homes by Jonathon Lee, Sonoma Building Company, and Tate Rice Homes. "It's very important to pay close attention to the correct practices and principles with this type of traditional southern architecture" added Ramsey. "Done correctly, this will be an amazing addition to what is already a successful neighborhood". The developers, the architect and the builders together have created refined architectural guidelines designed to achieve just this.
Development of Phase IV will begin this summer with lots available in the fall. Home prices will range from the mid $300's to the mid $500's in The Village and from the mid $400's to over $1 million in the remainder of the phase.
Brookberry Farm is a master planned community on 800 acres that was the former country estate of Bowman Gray, Jr. Presently there are around 300 families living at Brookberry Farm. Conveniently located in western Winston-Salem, residents enjoy some of the best public and private schools in the area. It's just minutes from fine dining and shopping, medical services and vibrant downtown Winston-Salem.
Brookberry Farm is a joint venture of Quality Oil Company, LLC and McChesney and Associates, LLC. "The highly anticipated Village at Brookberry Farm will offer a fresh new home style to the area," said Graham Bennett, President of Quality Oil. "Our vision is to produce a residential development where the natural and built amenities set this community apart, and can be enjoyed by all residents." Brookberry Farm is marketed by Berkshire Hathaway HomeServices Carolinas Realty.
To learn more about Phase IV and The Village at Brookberry Farm, visit brookberryfarm.com or call 336-794-1752.
View Gallery:

Previous
Next
Connect with home resource professionals in our area today.